The team player you've been looking for
Whether you're planning a move down the hall or across the country, moving your technology systems - including production workstations, computers, servers, or entire data center is no easy task. It's one that requires the commitment of highly skilled staff and resources, and demands attention to detail.
Technology Movers moves your computers, workstations, and servers - not something you want to leave to the average office moving company. We have decades of experience with computer systems and know how important technology is to your business, so our teams are loaded with experienced techs who care as much about your equipment as you do.
Lets face it, a move is disruptive, and keeping your personnel focused on your business - not the move - is the goal. Moving your computers, even a short distance, can be a source of tremendous stress for many companies and managers. But it doesn't have to be. With our Moving Services, you can leave the heavy lifting to us.
Emergency Services

Did you just get a request from management to get that equipment from here to there ASAP? Technology Movers is agile enough to handle last minute server moves, last minute shipping, last minute computer moves. We specialize in making the impossible happen. Call us at 855-703-6683 to make it happen!
Assisting your IT Department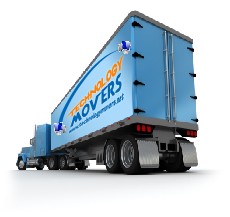 Your IT Staff is going to be consumed with LAN, WAN, VPN, internet connection, and vendor details – the last thing they need to be worried about is moving your workstations and heavy equipment. We seemlessly assist your IT department and can work directly with them, or your project manager.
We are experts when it comes to moving your computers out of the old office and into the new one; we preserve the continuity of your workstation, server, and data operations, quickly and efficiently.